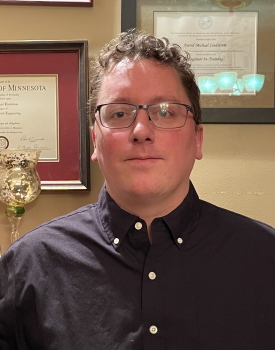 David Lindstrom, P.E.
Staff Engineer
David Lindstrom is a staff engineer at Criterium-Schimnowski Engineers based in Mahtomedi, Minnesota. He has a strong background in structural engineering, having worked as a consulting and design engineer in the nuclear, transportation and aerospace industries. David is a Licensed Professional Civil Engineer (P.E.) in Minnesota.
Qualifications
Mr. Lindstrom has been a structural engineer for more than 13 years. As a part of Criterium-Schimnowski Engineers, he is involved in the structural evaluations and inspections, property condition assessments, and the capital need assessments for residential building projects.
Prior to joining hands with Criterium Engineers in 2021, he worked as a structural engineer in a diverse range of industries. He worked as a consulting structural engineer for nuclear energy for 9 years, performing detailed analyses and structural evaluations in support of nuclear power plant licensing. He spent two years in the transportation field, designing bridges ranging from small county highway bridges to larger interstate bridge projects along I-35W in Minnesota. Most recently he worked as a Facilities Engineer in the aerospace industry, designing structural aerodynamic components and performing inspections for turbine engine test cells.
Education
Bachelor of Civil Engineering, University of Minnesota, Twin Cities, 2007
Master of Science, Structural Engineering, University of Minnesota, Twin Cities, 2013
Licensure
Minnesota PE # 51765