Criterium-Schimnowski Engineers are recipients of the 2022 Enterprise Award. This award recognizes 25% or more growth in the span of one year. Criterium-Schimnowski Engineers achieved 39% growth between July 2021 through July 2022.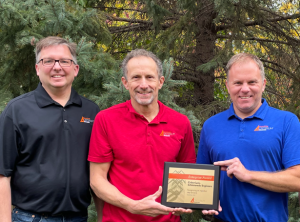 The award was presented by David Leopold, Criterium Engineers President, during closing ceremonies for the multiday 2022 Criterium Engineers Conference, a virtual event held in September for affiliate (franchise) office principals and their employees from across North America, as well as headquarters employees.
Criterium-Schimnowski Engineers is based in the greater Minneapolis-St. Paul metropolitan area. Paul Schimnowski, P.E., is president and CEO and his wife Melissa is the office manager. In addition, they employ two professional engineers and an operations manager. Paul Schimnowski accepted the award virtually from his office in Minnesota.
The engineers pictured above are Paul Schimnowski, Steven Eberly, and Steve Eiker.